26. Mai 2023
Far East Film Festival Udine 2023
Four Films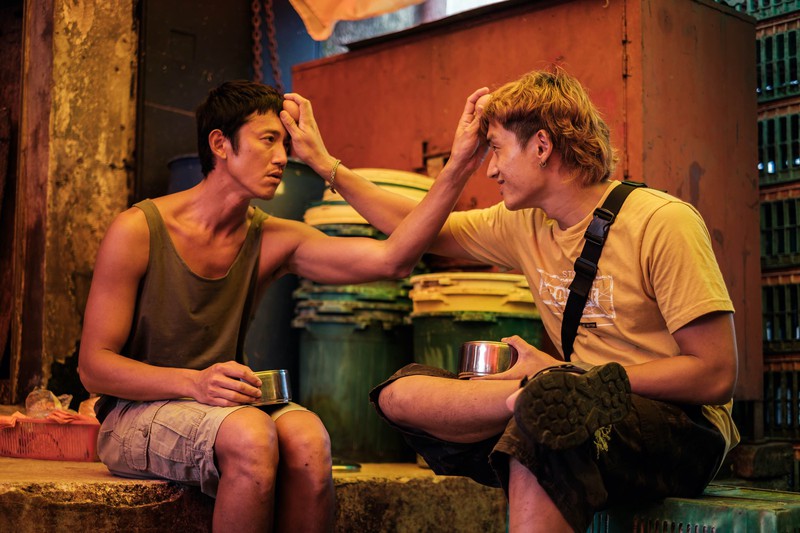 Way of Life (Watanabe Hirobumi) Japan 2023
Way of life by the Japanese director Watanabe Hirobumi is, at first glance, a small black-and-white film, but how many layers it contains. The director films himself during the pandemic in Japan, where he sits alone in his room every day and draws. He discovered this ability in himself during the lockdown (like many of us discovered something in ourselves then), but he drew well since childhood. He knows how to imitate Basquiat, Picasso, Munch, and Monet well. His drawings seem childish and naive, but very ironic. He looks at the world with this tireless irony. This is his way of life. He calls his Korean operator, who just had a daughter. He says that in Korea the situation with covid is more controlled. Watanabe is exercising. He listens to the news on the radio. The monotony of his life is embodied in the monotony of the film, to which Schubert (Moments Musicaux, Op. 94, D. 780: No. 3 in F Minor, Allegro moderato) is the soundtrack, which plays again and again. The music repeats itself all the time, as the hero's movements repeat in the frame. But in the finale, he compares the monotony of life with the repetition of takes during the filming of his own film. Watanabe is pictured with his brother Yuji, who is the composer of his films. In the credits – numerous relatives with the surname Watanabe. And this world of Watanabe is very familiar, simple, recognizable. It was as if you were visiting an old friend. Or watched a movie about himself. It's like a documentary Hong Sangsoo.
The Sales Girl (Janchivdorj Sengedorj) Mongolische Republik 2022
Saruul is a young girl who studies at the university. One day, her friend, with whom she went to school, asks her for a favor – can Saruul fill in for her at the store? The fact is that this is not an ordinary store, but a sex shop, while Saruul is very naive and young. A friend introduces her to the owner of the store, Katya, a former ballerina. Saruul could be her granddaughter, agewise. Thus begins this strange friendship of two women and work in a sex shop. Saruul is visited by various customers, and she calmly helps everyone choose vibrators, rubber dolls or regular condoms. This Mongolian film reveals to the European audience the truth about modern Ulaanbaatar. It turns out that this is a country where nomads on horseback may roam, looking into the endless desert distance, but has also a modern capital like Beijing. The real discovery of this film is the aspiring actress Bayartsetseg Bayangerel. The girl fits into the frame very organically, whether it is a panel house in which her parents live or a night tram in which a rock singer similar to Viktor Tsoi rides with her. Janchivdorj Sengedorj, one of Mongolia's foremost directors, with a particular interest in portrayals of contemporary youth, has worked in both theater and cinema.
Abang Adik (Jin Ong) Malaysia 2023
Abang and Adik are the sons of different parents, but they live like one family and take care of each other. They never left their poor apartment in Kuala Lumpur, and never even left their squalid neighborhood, where Abang plucks chickens for a Malaysian eatery and Adik sleeps with an older wealthy woman for money. The matter is complicated by the fact that Abang does not have a passport. It got burned in a fire along with his father's house. But Abang has a fiancee – a beautiful young migrant from Myanmar. Abang and Adik are also neighbors with an elderly transvestite Moeny and a girl from social services who wants to help Abang get a passport at any cost. Adik is so concerned that Abang can become independent of him that he tries to prevent this. A tragic incident intervenes in the fate of the named brothers, due to which Abang ends up in prison. The film by Jin Ong, which won the main prize of the festival according to the audience vote, will break your heart. It shows all the contrasts of life in the Malaysian capital, poor abandoned areas of Kuala Lumpur, modest food, disenfranchised migrants, but, above all, tells the story of true brotherhood. Abang and Adik are brothers not by blood, but they are devoted and faithful to each other in a way beyond the ties of biological family. At the same time, the film has neat and ingenious camera work that shows both the neon lights of the city at night and the darkest corners of the prison cells.
2/Duo Suwa Nobuhiro Japan 1997
Kei is an unemployed actor who has just been fired from filming - scenes with him will not be filmed due to script changes. He lives in a small Tokyo back alley apartment with his girlfriend Yu. Yu works as a salesperson in a luxury boutique, but gets very tired at work. At home, she needs to cook dinner and give money to Kei. Kei often loses his temper and acts on impulse. Even when he proposes marriage to her, it sounds like an order. A film about toxic masculinity by Japanese director Shiwo Nobuhiro was included in the retrospective program A/B side VIBES. Greatest Hits from '80s & '90s. This is the debut of the former television director, from 1997. Lots of close-ups, cinematographer Tamura Masaki's movable camera is reminiscent of John Cassavetes' style, specially his film Faces. The francophile director, however, drew inspiration from the French New Wave, particularly from Jacques Rivette with his 1968 L'amour fou, a film about the relationship between a theater director and an actress. Like Rivette, the plot of the film develops in three or four sets. As a former documentary filmmaker, Nobuhiro films his debut in mockumentary style, sometimes breaking the fourth wall and inviting the actors to talk through their concerns with the director. Interestingly, the lead actor, playing Kei, Nishijima Hidetoshi later became a big star outside of Japan by starring in Academy Award winner Drive My Car.